As we move further into 2023, what better time to begin planning a luxury getaway? After all, we all need something to look forward to in the summer! Luckily, Pennard Hill Farm offers a range of luxury cottages and boutique camping options in beautiful rural Somerset. Explore these in more detail below. 
Our Cottages 
At Pennard Hill Farm, we have three stunning cottages for you to choose from. Each one has breathtaking views and will help you embrace the quiet surroundings for a relaxed trip where you can unwind and rejuvenate. We also offer beauty treatments from the comfort of your cottage. So why not take advantage of the luxury beauty treatments we have available, from traditional massages to shiatsu? We also have a serene indoor heated pool. It's the perfect place to unwind!
The Lamb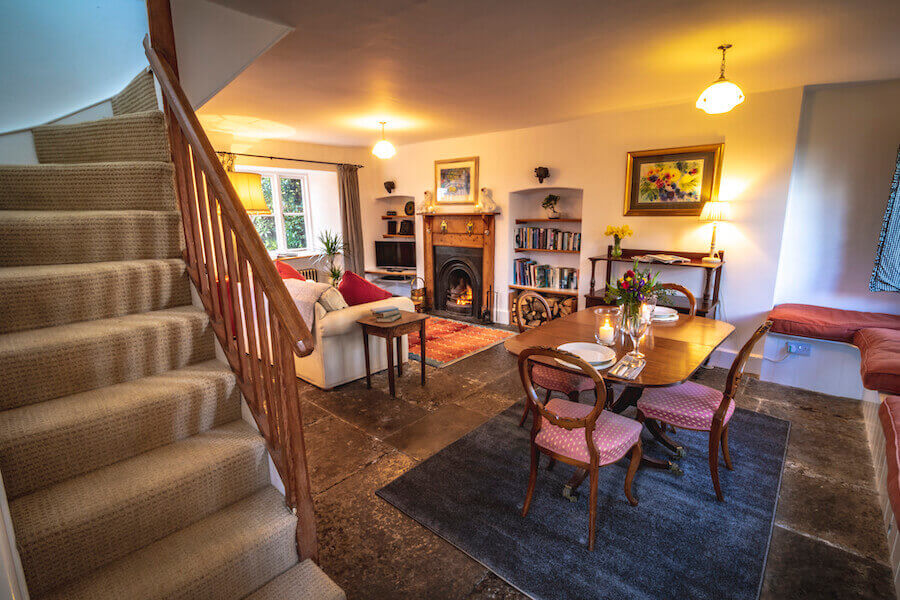 The Lamb cottage is perfect for a romantic getaway. This cosy setting has an open plan living and kitchen area along with an open fire, ideal for when you want to cosy up on the sofa after a day of taking in stunning views. Marvel at the striking scenery from the bedroom, which overlooks the Mendip Hills, and take advantage of our amazing facilities, including our hamper and grocery delivery service, as you enjoy the warmth coming from the open fire.  
The Golden Fleece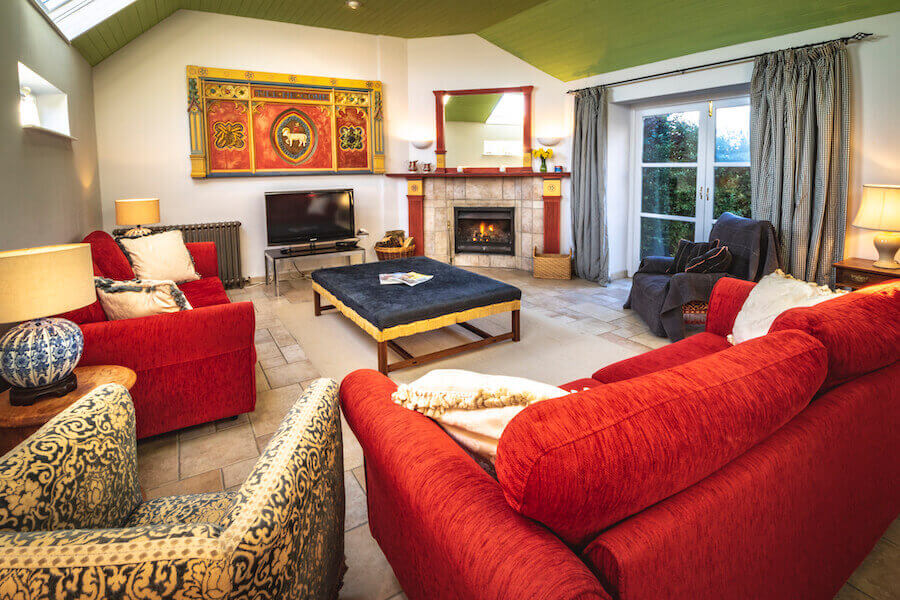 The Golden Fleece can sleep up to 8 people. This stunning cottage features a large open-plan kitchen living area, giving you and your guests plenty of space to relax and have a couple of evening drinks. Whether you are coming down with your family or a group of friends, you will be sure to have a lovely stay in a wonderful location.
Downstairs is home to a bedroom with a king-sized bed and upstairs holds a further 3 bedrooms: a twin room, a master room, and a room with a super-king bed. The Golden Fleece is also perfect if you want to bring your furry friends along with you on your luxury staycation as this cottage has its own garden for your dog to run around in. 
Price per night varies depending on the time of the season you plan to visit. You can find our availability on our website.  
The Haybarn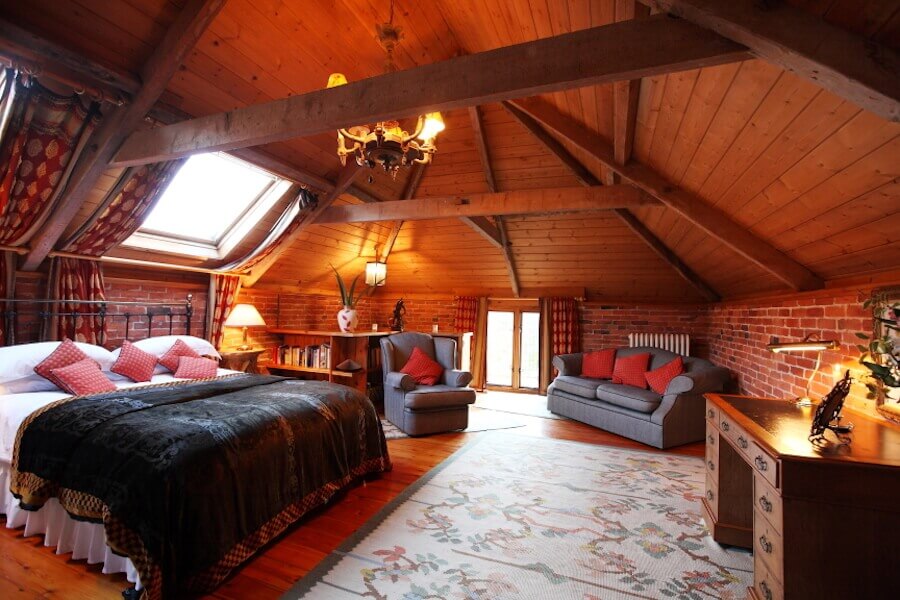 If you are looking for a romantic trip, the Haybarn is the cottage for you. The exposed brick walls, which feature heavily, give a luxury, contemporary farmhouse feel to the location. Situated near the swimming pool, this cottage sleeps up to 2 people with the option to convert the dressing room into a children's bedroom. Want to explore the outside of your cottage? The Somerset countryside is a wonderful place to traverse. Your helpful welcome pack will give you some advice on the best places to visit.  
Somerset Luxury Camping 
Is 2023 the year you try something different? Our boutique camping options could be for you. At Pennard Hill Farm, you can choose to stay at The Safari Tent, The Tree Tent, or The Hide. 
The Safari Tent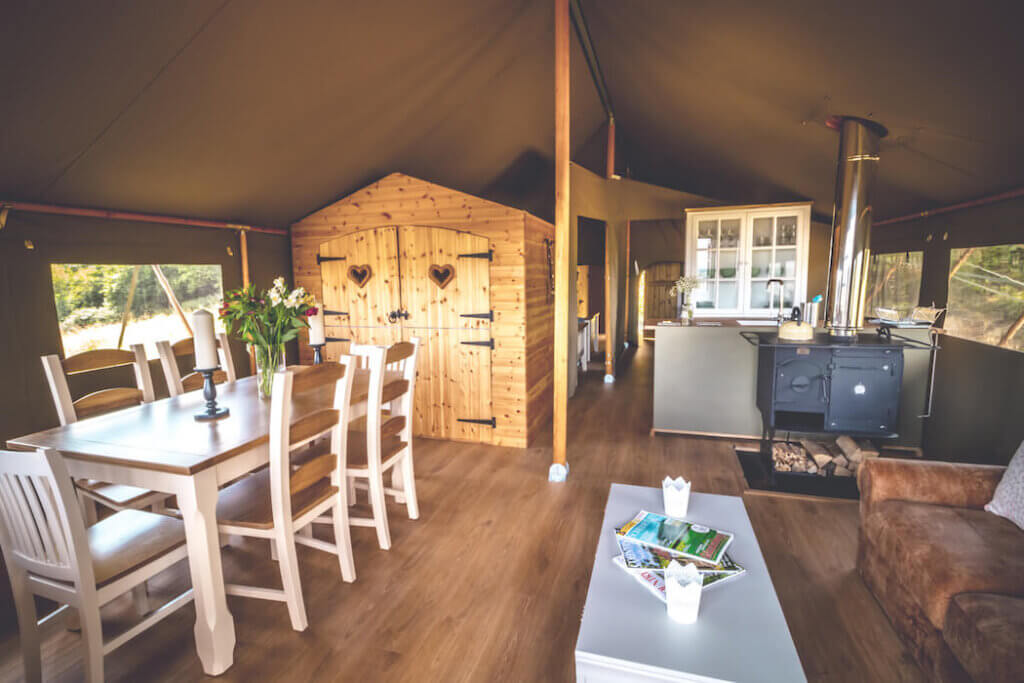 The Safari Tent is a great host to families and groups of friends looking to get away and stay somewhere a little different. It features twin beds, a double bed, a king-sized bed and sleeps up to 6 people. This unique boutique accommodation is off-grid, allowing you to get back in touch with nature. But don't worry, The Safari Tent also has a shower with hot running water and solar-powered lights so you will be able to see when making your way around the tent at night. Glamping has never looked so good! 
The Tree Tent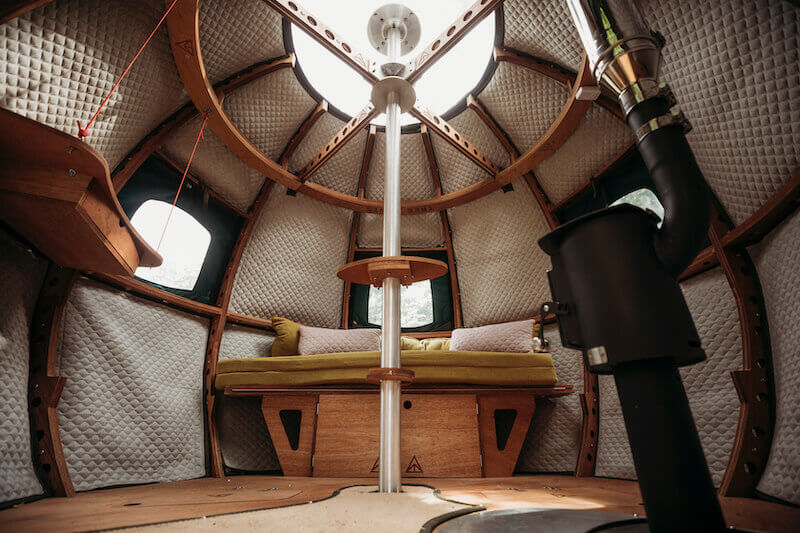 The Tree Tent is an experience like no other, as the spherical tent is suspended between two trees with a beautiful view of the Mendip Hills. Head over the bridge from the pod and you will find a kitchen for you to use, along with a seating area and fire pit to roast some marshmallows on. The Tree Tent sleeps 2 in its double bed, which also folds into a sofa for you to relax on during the day. Looking for a romantic vacation or just to get away from your busy everyday life? Then this is the luxury pod for you! Minimum 2-night stay. 
Guests in the Safari Tent and the Tree Tent can also use the pool. 
The Hide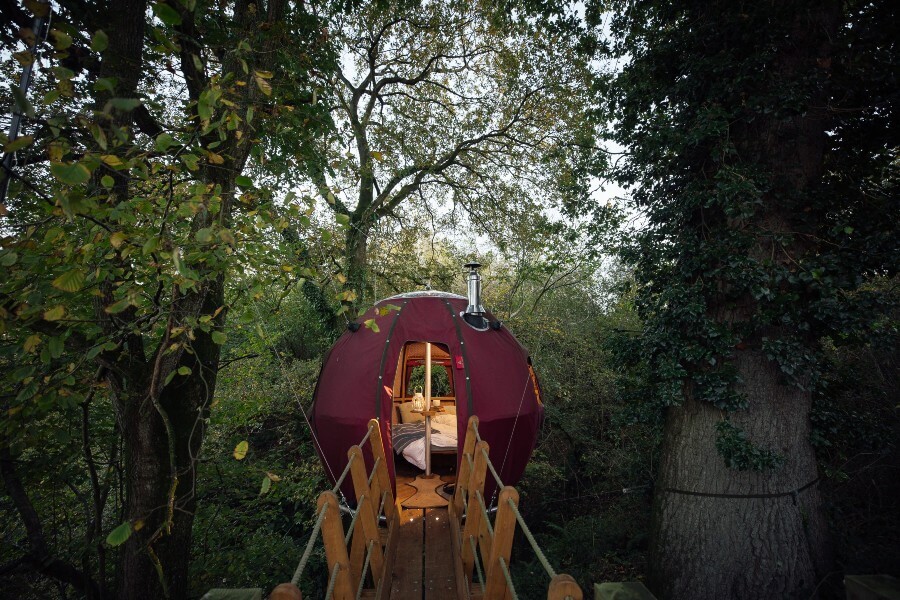 The Hide is a unique accommodation you've never experienced before. Relax in a wooden cabin and tree tent combination that sleeps 4 people in total. A wood-fired pizza oven and fire pit barbeque are available so you can enjoy a feast of food, along with a fully equipped indoor kitchen. Firewood, kindling, and firelighters are all provided. 
You can also enjoy your main-character moment in The Hide's wood-fired bathtub and there is also a private outdoor shower. The private shower is the perfect place to reconnect with nature as you stand in a luxurious environment. 
We also offer accommodation for Glastonbury Festival. From yurts to airstreams, let us help you make your Glastonbury experience unique with our variety of accommodations for ticket holders! We are less than a 10 minute walk from the festival, meaning you won't need to travel too far and you are able to enjoy some time away to recover so you will be ready for another day at the festival.
We can't wait for you to join us at Pennard Hill Farm in 2023! Head over to our website to book your stay with us today!