If you have a large guest list, want to stretch your celebrations out for as long as possible or are keen to have a ceremony that expresses your personality as a couple… then a festival-style wedding is for you!
We've created a list of the most important aspects of a festival-style wedding and how you can make this theme your own on your special day.
The Venue
Finding the right venue is one of the most important aspects of planning a wedding. Even more so for a festival themed wedding because there are some essential facilities that need to be thought about; accommodation, toilets and wash areas and of course – a stage for the bands! We recommend finding a rustic wedding venue that has copious amounts of outdoor areas and space for yurts, tents or tipis. Remember that starting with a blank canvas means decorations can be completely tailored to your personal style, so we recommend lots of fairy lights, festival flags and personalized wristbands for your guests!
Top Tip: When you're a couple that loves to festival together, what better way to celebrate your themed wedding than at a location overlooking the Glastonbury site? Pennard Hill Farm offers a blank canvas so you can make the venue your own. We're here to ensure you have the perfect backdrop to make amazing memories next to a historic festival site.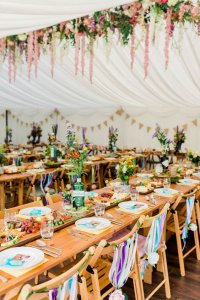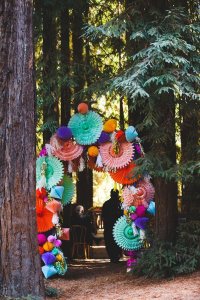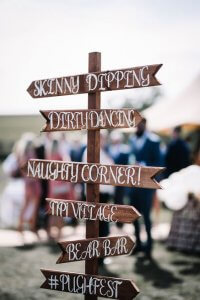 The Dress
Although the venue is important, it's no secret that every bride's main priority is the dress! At a festival themed wedding, you may consider a less traditional design in favour of a more whimsical and laid back boho style dress.
Top Tip: Everything festival themed should be fun and light-hearted! Accessories such as flower crowns that match a brightly coloured bouquet are a great way to add colour and fun to your look and make your wedding dress on theme. A fun option for when it gets a little cooler in the evening are matching 'just married' leather or tassel jackets.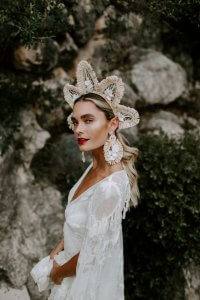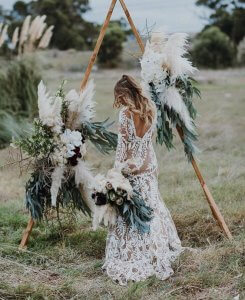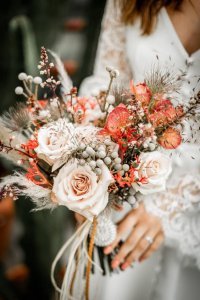 The Food
Although festivals are predominantly focused on the music, they pay a huge homage to food too! For a festival-style wedding, you can't go wrong with street food. There is a wide variety of street food caterers that can serve from their vans, trucks, and stands, which gives your guests the option to pick and choose as they please. It also means everyone can enjoy the venue freely without the necessity of a sit-down meal. If you prefer the idea of a sit-down meal, why not serve the main courses in a traditional manner and then serve the dessert more casually from stands? Anything from chocolate-dipped churros to ice cream in a cone is perfect for guests to eat on the go.
Top Tip: If you have guests staying over then put on a hangover-curing breakfast spread in the morning. What could be better than reminiscing about the night before over pancakes, waffles, fried eggs, and bacon baps?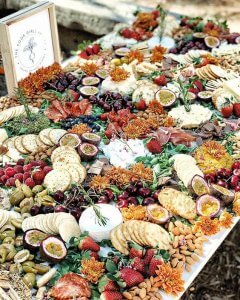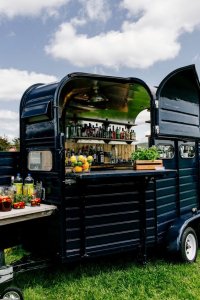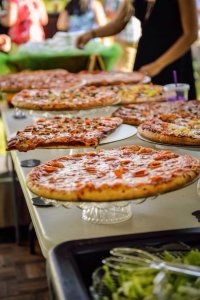 Extra Activities
Besides the obvious wedding band, give your reception that extra excitement with added activities! A variety of mini carnival games would be on theme and provide your guests with hours of fun. Activities such as a coconut toss, create your own flower crown, temporary tattoos or a fire pit with marshmallows are sure to go down a treat!
Top Tip: We also love the idea of activities that provide memories such as a photo booth in a van… don't forget the props!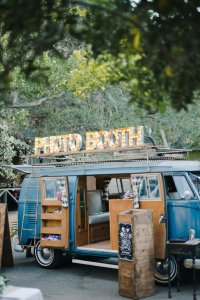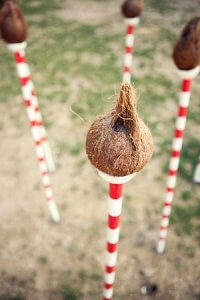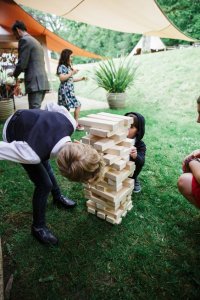 The Cake
When it comes to the cake, the rustic looking decoration is key for a festival themed wedding! Think naked icing, an overload of flowers and Victoria sponges for a fresh and colourful look, or natural cake bases for a woodland feel.
Top Tip: Decorations such as festival flag bunting, colourful fruit and scrolls with the bride and groom's names on are perfect for that extra personal touch that is also on theme!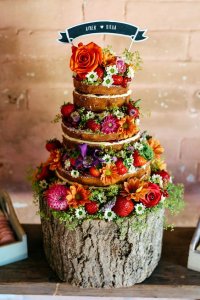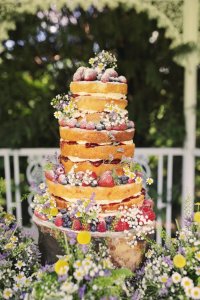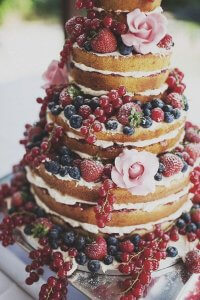 Added Extras
For a festival-themed wedding, it really is the little extras that help to provide that immersive experience! Where the budget allows, don't be afraid to really push the boat out and think outside the box. For example, providing your guests with personalized reception wristbands as they enter the venue adds to the feel of a real festival! Seating arrangements organised as a festival stage program is another idea we absolutely love!
Top tip:
Your guests are going to want to dance the night away, so providing essentials such as flip flops, blankets and other thoughtful extras are going to make sure everyone is there till the very last encore!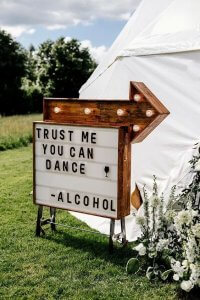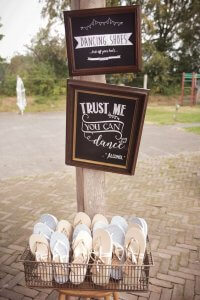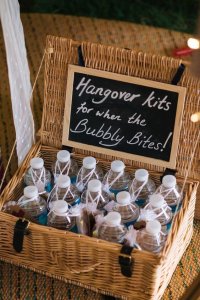 We would love to help you plan your big day at Pennard Hill Farm, so if you need any advice on recommended marquee companies, caterers, loo hire or florists, please do not hesitate to get in touch!
The images used within this blog are owned by ©Pinterest 2020.