You don't have to travel overseas to experience something new! We've put together a list of the top things to do in Somerset whilst on your perfect staycation.
Cheddar Gorge 
Cheddar Gorge is a limestone gorge, located in the village of Cheddar, Somerset. The caves were produced by the underground river running through it and have left a magnificent site behind. So outstanding that it was named as the second greatest natural wonder in Britain. If that wasn't enough, the gorge has a host of wildlife and is famous for its herd of feral goats which live on the gorge. You can visit the site and its surrounding villages as well as take a tour of the caves. 
Bonus fact: The gorge was also where Britain's oldest complete human skeleton, Cheddar Man, estimated to be 9,000 years old, was found in 1903, spooky!
Cheddar Gorge currently has a 4 star rating on Tripadvisor. 
Glastonbury Tor
Glastonbury Tor is one of the most famous landmarks in the whole of Somerset, if not the whole of the west. The Tor, which is considered one of the seven wonders of Britain, is mentioned in Celtic Mythology particularly with links to King Arthur! It stands 158 metres above the surrounding marshes and can be seen for miles around. 
Nobody is entirely sure how or why the Tor has survived the erosion unlike the land around it – but below the surface lays limestone and clay which were deposited between Jurassic period 208 to 146 million years ago! 
Glastonbury Tor currently has a 4.5 star rating on Tripadvisor.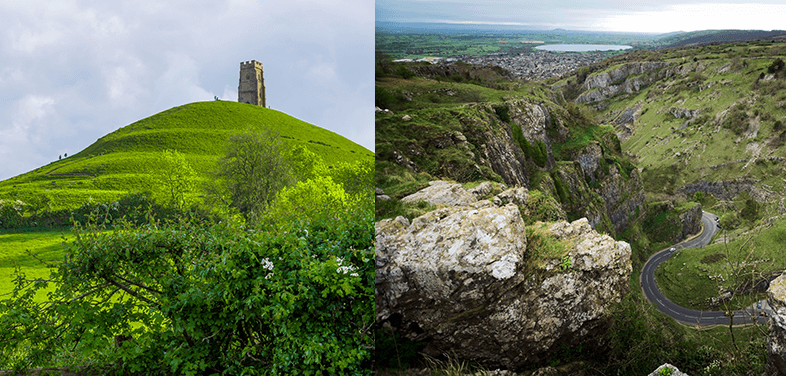 Wookey Hole Caves
Not far from Cheddar Gorge, are the Wookey Hole Caves – a series of connected limestone caverns which are located in the village of Wookey Hole. The cave offers a full range of activities and shows for the whole family – including animatronic dinosaurs, light and laser shows, fairy gardens and a dino dig! 
Bonus fact: The caves have been used by humans for around 45,000 years as determined by the discovery of tools aged back to the Paleolithic period! 
Wookey Hole Caves currently has a 4.3 star rating on Tripadvisor. 
The Roman Baths 
Located in the city of Bath, is a well preserved thermae, believed to have been constructed between 60-70 CE, the first few years of Roman Britain. The baths were used for public bathing and ceased use at the end of Roman rule in Britain. 
The main features are split into four separate areas: the Sacred Spring, the Roman Temple, the Roman Bath House and a museum which holds artifacts. 
The Roman Baths currently have a 4.5 star rating on Tripadvisor.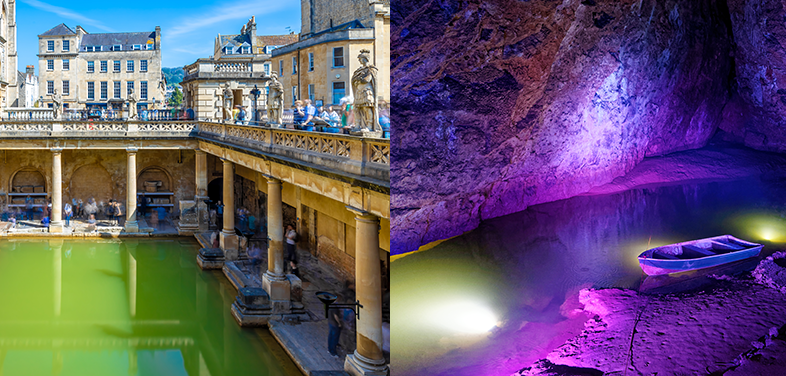 Wells Cathedral
Wells Cathedral, known for its stunning architecture and for being one of the first Gothic Structures to appear in Europe, was built in 1176 – 1450 and was dedicated to St Andrew the Apostle.
When visiting, you can climb the spiral staircase to walk in the footsteps of Cathedral masons, considered the most memorable things to do in Wells. Open to exploring, you can discover hidden chambers and the many wonders to behold!
Wells Cathedral currently has a 5 star rating on Tripadvisor.
Museum of Somerset 
Located in the 12th-century great hall of Taunton Castle, is the Museum of Somerset. It hosts a collection of sculptures, natural history, fossils, silver and pottery remains. A particular exhibit contains a hoard of 52,503 Roman coins which date from 253 to 305, the hoard is one of the largest ever found in Britain. 
The Museum of Somerset currently has a 4.5 star rating on Tripadvisor.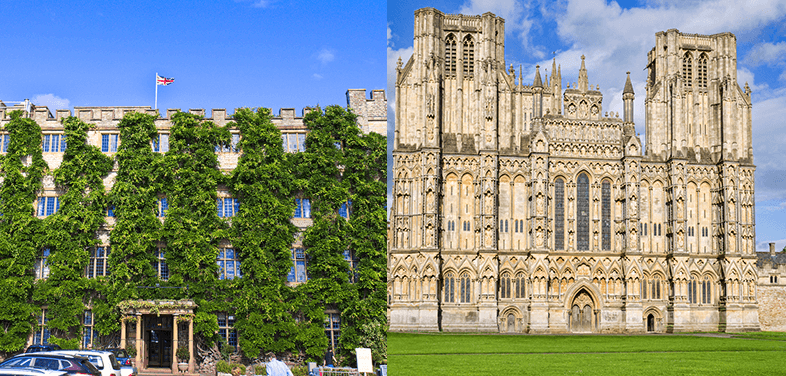 Perry's Cider Brewery and Museum 
Can't decide whether to visit a brewery or a museum? Now you don't have to pick with Perry's. The heart of their company is their farm, where all of their apples are grown, pressed, fermented and packaged. Their brewery is open to visit to see how their craft cider is made with the option to buy some afterwards and if you enjoyed their beverages that much, their ciders can be found across the UK in bottle shops, restaurants and bars. 
Perry's Cider Brewery and Museum has a star rating of 4.5 on Tripadvisor. 
Quantock Hills 
To the west of Bridgwater, lies Quantock Hills – a perfect hiking destination consisting of beautiful oak woodland, ancient parkland and agricultural land. If that doesn't convince you, knowing that it was England's first area to be declared an Area of Outstanding Natural Beauty, designated in 1956, should make you want to visit this beautiful scenery. The area runs for around 15 miles, so you'll have plenty to explore! 
Quantock Hills currently has a 5 star rating on Tripadvisor. 
—
Looking for the perfect place to start your Staycation? Here at Pennard Hill Farm we offer three luxurious cottages and a brand new tree tent to stay in! If you'd like anymore information on these, feel free to e-mail us on [email protected]